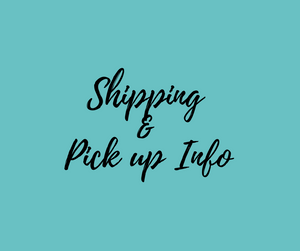 GiGi's Emporium
Shipping & Pick Up
Regular price
$ 0.00
$ 0.00
Unit price
per
SHIPPING
Shipping charges are as followed: 
$6.99 for 1 item- $2 for each additional item. The maximum you will pay for shipping is $14.99. 
Shipping is FREE on orders over $150 


GIGIS IS NOT RESPONSIBLE FOR LOST / STOLEN PACKAGES.
Once it is out of our hands, there is not much we are able to do to locate your pack. Most carriers, will instruct you to reach out to the sender, but unfortunately all we are able to do is file a claim which honestly, never gets processed by the carrier. Please do reach out though, we want to be able to troubleshoot the problem with you and help to locate your package. 

Shipping charges are non-refundable. The customer is responsible for return shipping costs. All refunds will be for the price of the item purchased and tax (if applicable), but not the cost of shipping.

LOCAL PICKUP

Pretty Please- wait for the notification that your order is ready for pick up or check your history to see if it says fulfilled. While we strive to be as quick as possible, you order WILL NOT be ready immediately after purchasing. Also please know, that if you come in for pick up and your order is not fulfilled, the girls working can not fulfill your order for you on spot. We have processes and procedures that help us to maintain operations and all online orders are processed through our fulfillment team. If it is an item you are wanting quickly and can not wait for our fulfillment time, we encourage you to come shop the store during business hours.
Pretty please try to pickup within a week of getting your fulfillment notification
. This protects your return/exchange timeline so you are within your exchange window and allows us to keep our local pick up area nice and orderly.  While we understand that life happens and you are not always able to pick up your item within a week, we ask that if you know you are not able to get to the store within a week, you choose shipping. We are open 7 days a week. 

REQUEST TO CANCEL ORDERS
If you request to cancel an order prior to it shipping please understand we will only issue store credit to your account. And that is if we saw your request prior to shipping your item out.

INCORRECT SHIPPING ADDRESS
Please know that Gigi's cannot be responsible if the buyer failed to submit the correct address information in your commentsold accounts. We can only do what we see on our end. If you placed an order and need to change the address information, please immediately contact customercare@gigisemporium.com and we will do our best to help. If your item shipped before we saw your email, we are terribly sorry but we will not be held responsible. Please make sure all information is correct prior to ordering. You can do this under your settings on your account. Please be sure if you change your address to have something shipped elsewhere, your address will remain the last updated address. Please keep your account updated as it helps us keep things running smoothly on our end. 

Keep in mind- business days. Weekends are not business days. We ship and process orders on Monday, Wednesdays, and Fridays.  Any orders placed after 3pm on Friday will be processed on Mondays. There will be times in which we are working the weekends (yay your item fulfills sooner), but we all have families and our weekends are the protected time we have to spend with them. 
We are a family run business, and sometimes there will be illnesses, etc that may delay fulfillment. We always strive to provide you with the fastest shipping/fulfillment you deserve! 
Thank you for choosing us! From the bottom of our hearts, thank you for being part of our Gigi's Family. 
---